Transform Your Living Space With Efficient and Long-Lasting Windows
We know that windows can impact both increasing the view of outdoor spaces and impacting natural lighting; that's why we craft each window with extreme attentiveness and care to meet our stringent requirements. Our windows bring style and comfort to any room, expanding views and bringing in a warm glow of natural light. Their projection design gives a new sense of dimension, adding curb appeal to your home's exterior.
Single Hung
Single Hung windows feature a bottom sash that can be moved vertically for ventilation, operated through a stainless steel coil spring balance system that does not require adjustment. The meeting rail interlocks the sashes around weatherstripping to prevent drafts efficiently.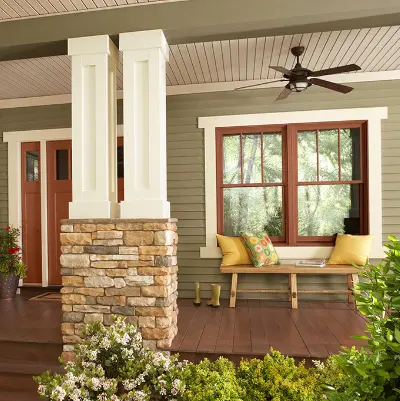 Double Hung
The Double Hung window incorporates two vertical sashes that can be moved up and down. Its sash can be tilted for convenient cleaning, and its stainless steel balance system enables smooth and effortless sash movement.
Double Slider
Double Slider windows feature two operable sashes that move from side to side. Sash moves easily on integrated roller systems. Where the sash meets vertically in the middle of the window, the stile interlocks around weatherstripping to prevent drafts.
Casement Windows
These types of windows are hinged on one side and can be opened using a crank handle. They provide excellent ventilation and allow fresh air into your home. The screens are located on the inside of the window, and they open outward.
Picture Windows
Picture windows are stationary and do not have any movable sash panels. They're commonly used with other styles to build a particular configuration and always have a square or rectangular shape.
Geometric Windows
Geometric windows are non-operational and can take on various shapes and sizes, acting as decorative accents or being included in larger window groupings. They offer a range of customizable options to suit individual preferences.